The Best Biscuits in Lexington?
Tudor's Biscuit World is something that I had heard of for years but never got around to trying their offerings. Friends have always described the world of biscuits as a place that has "anything you could want on a biscuit", and some things you may not want! After a quick look at the Tudor's Biscuit World menu, I could tell they weren't joking, the menu is huge!
With toppings like Pepperoni, Bologna, country ham, and apples, I knew this place set its self apart from the rest of the crowd. This menu is love at first sight for any lover of biscuits. The only issue was: the closest biscuit world was 3 hours away in West Virginia. That all changed in October when Tudor's opened their first location in Lexington. Tudor's Biscuit World locations now span 4 states and many stores in each state!
The Busiest Business on New Circle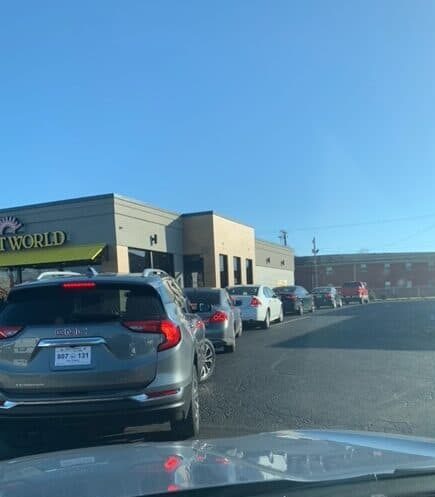 Upon arrival, without a doubt, this was the busiest place in Lexington on this Saturday morning. The line went all the way to New Circle Road, and there were tons of people getting in line after us. Luckily the line backs up into a turning lane on New Circle.
With so many options to choose from Tudor's compares to the Cheesecake Factory in its large and extensive menu. One thing that was unlike the Cheesecake Factory was the prices. Tudor's Biscuit World prices are similar to McDonald's but the difference is in the quality. The biscuits are like homemade and are around 2x the size of their McDonald's counterparts.
The Biscuits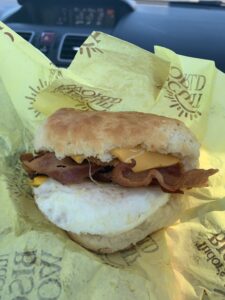 We decided to try 2 different biscuits, The Duke and The Miner. The Duke was constructed of egg, American cheese, bacon, and a hash brown. The Miner was bacon, hash brown, and a cheddar cheese sauce.
The biscuits alone were good enough to rave about. They were buttery, flakey, and they really had the homemade taste, feel, and look. The Duke was excellent! It was a very classic style breakfast sandwich, with the addition of a large hash brown. See the picture on the left.
The Miner had one thing that set its self aside from the rest of the pack: the cheese sauce. I wish this sauce was on everything, it was absolutely delicious and complimented the biscuit very nicely. The cheese sauce and egg being absent are the key differences in The Miner and The Duke.
They don't just have biscuits!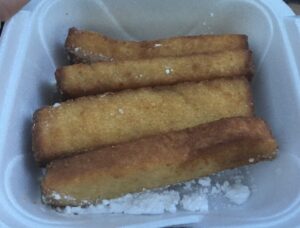 For a place named the world of biscuit, it might seem that they are only cape able of doing one thing. That's not remotely true, they have burritos sandwiches, and even French toast sticks which I was really excited to try out. They come 5 to a serving and are served fresh out of the fryer.
They were so hot that we had to wait a few minutes to eat them. The french toast sticks were awesome, they had a nice crispy exterior with a soft fluffy interior. They were served with a side of syrup which made them perfect for dipping. These French toast sticks are a perfect quick snack for when you're on the go or you aren't craving a biscuit.
A few words to conclude
If you are looking for a place that is sure to suit all your breakfast needs, I'm pretty sure Tudor's can handle you. The prices are in line with the likes of other fast food places but the food is homemade and the portions are 2 times the size of their competitors. The biscuits are the star of the show, they taste homemade and can rival anything coming from your grandma's kitchen. The variety of topping to accompany these biscuits makes them stand out from the rest of the breakfast game. They have tons of other options if you aren't feeling like a biscuit including some French toast sticks, that are a perfect sweet breakfast treat. A drive to Tudor's Biscuit World is worth it whether your driving from Richmond road or up from Lancaster Tudor's is gonna be a place that won't disappoint. 
[rwp_box_recap id="0″]
Check out other reviews from Square Waffle.
We have reviewed other restaurants. Take a look at those right here.
Make sure you leave a rating below
Reader feedback is super important. Please tell us what you think.
Here is what other readers thought.
[rwp_box_form id="0″]
[rwp_box_reviews id="0″]