Lexington Food Trucks are a perfect quarantine choice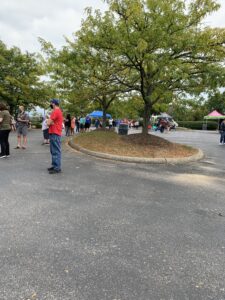 Two weeks ago Hillbilly Hibachi showed up to Lexington Ky for the first time, many food trucks in Lexington ky should take notice. Hillbilly Hibachi sold out in a few hours. I had debated heading to Lexington way to attend their maiden voyage. After hearing about the crowd Hillbilly Hibachi drew I knew I would have to swing by the next time Hillbilly Hibachi food trucks came to town.
Food trucks in Lexington Ky can have a cult following, and after Hillbilly Hibachi's first trip, they may have a cult of their own. So the next night Hillbilly Hibachi was scheduled to be in town I drove up to Lexington to see what all the hype was about. We arrived a few minutes before they were scheduled to open and there was already a pretty good sized line, I'm not sure if this is normal for Lexington food trucks. We had to wait for a bit untill we were able to order. We got a bit of everything, a smorgasbord of Eastern Kentucky Hillbilly Hibachi cuisine.

You can find the Hillbilly schedule on their Facebook page, right here!
Hillbilly Hibachi and Yum-Yum Sauce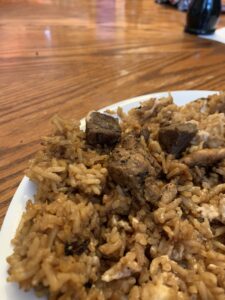 We tried some of everything Hillbilly Hibachi offered: chicken, steak, shrimp, rice and veggies; all served with homemade Yum-Yum sauce. You have the choice of meats you can get either chicken, steak, or shrimp. They also have a veggie plate for a few dollars less, which also comes with rice. The meats were all great, the Hillbilly Hibachi crew seasoned everything well and it had a nice sear on it.
The fried rice was seasoned well with soy sauce and garlic and had a nice seared but fluffy consistency. Hillbilly Hibachi serves broccoli, squash, zucchini and onions all of which were tender and had lots of flavor. This was my first time ever having homemade Yum-Yum sauce and theirs blew all the store bought stuff out of the water. I'm not sure if any other Lexington food trucks make custom yum-yum sauce, if you know please let us know, I need to see how it compares.
Final Thoughts
Food Trucks in Lexington Ky take notice.
Without a doubt this is some of the best hibachi I've had and it stacks up pretty well compared to its typical hibachi restaurant counterparts. There are many hibachi restaurants in Kentucky but all of which charge double the price for 1/2 the food you would get from The Hillbilly Hibachi truck. The food is better seasoned and better cooked compared to their block and mortar contemporary counterparts. Don't worry about the cleanliness either! Even though the cooking and serving is done outside, it appeared to me the Hillbilly Hibachi team did everything to ensure customer safety. The crew were also super pleasant to be around and made the experience great all around. Who needs walls when you got Hillbilly Hibachi?
Those brick and mortar establishments seem to be more focused on the traditional experience and forget to create a good product to support their egg flips and outrageous price tags. All in all this place is great and if Hillbilly Hibachi ever close to your neck of the woods I would encourage you to go git cha sum.
[rwp_box_recap id="0″]
Check out other reviews from Square Waffle

.

We have reviewed donuts. Take a look at those right here.

Check out the homepage and see what else you have missed.
Make sure you leave a rating below
Reader feedback is super important. Please tell us what you think.
Check us out on FACEBOOK, with a like, or TWITTER with a follow.
Here is what other readers thought.
[rwp_box_form id="0″]
[rwp_box_reviews id="0″]