AZUR Restaurant – Bourbon Fried Chicken Family Meal – A Review
|
Family Dinner to Fill up the Family
AZUR Restaurant is a well-known establishment in Lexington and has a loyal following. During these times of limited or no indoor seating capacity of restaurants, AZUR Restaurant has created a great option for taking out when you need to feed more than just yourself and your significant other. Their takeout family menu has a wide variety of options from steak to seafood to pork chops to fried chicken. They range in price from $40 to $90. The majority of the meals fall in the $40-$50 range and include a main dish and multiple sides.
Bourbon Fried Chicken Meal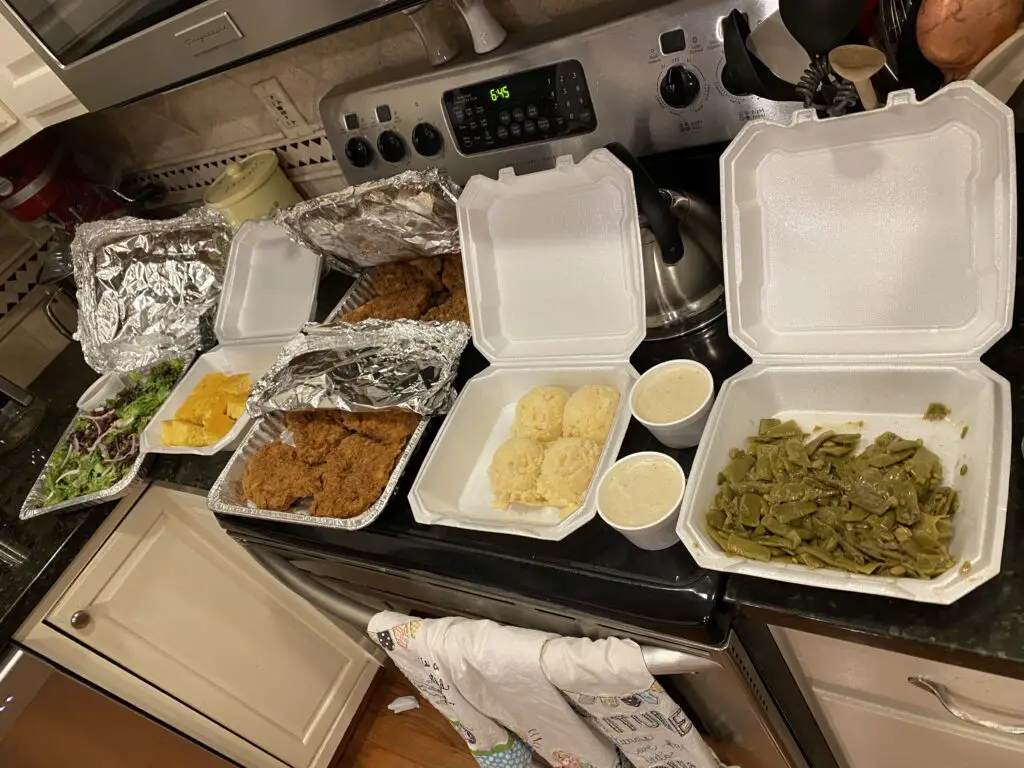 In support of local businesses, our family ordered their bourbon fried chicken family meal and we will totally order it again. This meal We have three teenage boys in our house and this meal filled us all up and we even had some leftovers for the next day.
At $40 for the meal it was a bargain for the amount of food that we got. In the meal, we had 8 large chicken breasts, green beans, mashed potatoes, gravy, cornbread, and salad with the AZUR Restaurant house balsamic dressing.
The whole meal was excellent. Even though it was a carry-out order the food was fresh and didn't really feel like taking out. The bourbon fried chicken had an excellent flavor and the breading was still crisp by the time I got it home.
We were pleasantly surprised at the amount of food that we got. The chicken breasts alone were HUGE!. Plus you got 8 of them. The chicken had a really good flavor. The white gravy that comes with the meal also added a homestyle touch to the chicken as well.
The other sides were good, but the green beans were the best of the sides. They were cooked in a classic country style, which is honestly the best way to have green beans. Adding that bit of fat to the cooking adds a depth of flavor that many of us grew up knowing.
The mashed potatoes were pretty standard along with the salad. Their house balsamic dressing is quite tasty along with the mixed greens. Finally, the cornbread is a sweeter variety but wasn't overly sweet. We will leave the sweet cornbread vs unsweet cornbread debate for another time. One thing we can all agree on is that butter on cornbread is the best!
The Verdict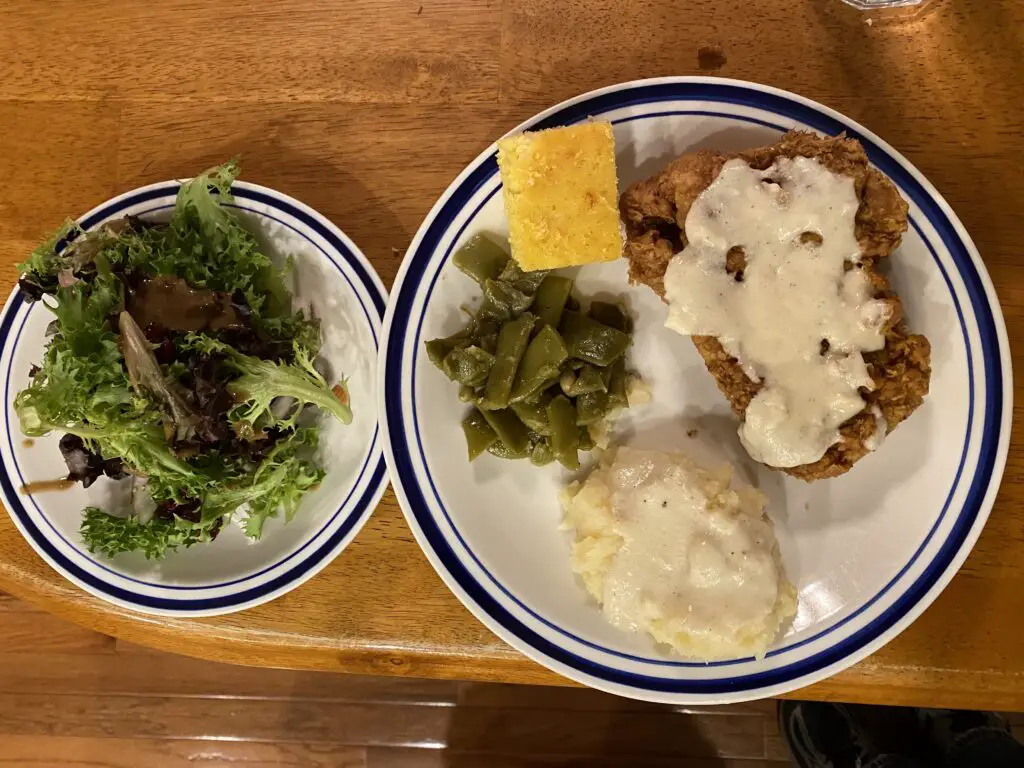 For a family night in, which we have a lot of those right now, this was a winner. It is really hard to feed a family of 5 and fill everyone up for $40. We will spend that at a fast-food restaurant and won't have nearly the quality of food we got with the bourbon fried chicken meal.
The ordering was easy. Just called in our order in the afternoon and I gave them the time I would pick it up that evening. Everything was ready when I pulled up. They kept the hot stuff hot and the cold stuff cold.
For a few extra dollars, you can add on extra sides and desserts. I'm glad we didn't add on the extras this time, since we had plenty to eat. We would definitely look into it next time around.
Supporting Local
To say that 2020 has been a weird year would be an understatement! The economics of COVID-19 are complicated. Businesses that come out of this time will be the ones that can pivot to alternate ways to serve customers. AZUR Restaurant's family meals are a great way to support a local business. The bourbon fried chicken family meal is an excellent way to get a full belly and help a local business. I can't wait to try their other meals as well.
Check out some other reviews
Here are some other food and drink reviews.
Leave us a comment below if you have tried this our other AZUR Restaurant take out meals.