El Rancho Tapatio – New Taco Review – You Hungry?
|
The Square Waffle team is on a quest to taste and rate tacos from Lexington and the surrounding area, el Rancho Tapatio is the first stop. The Square Waffle Team went out and got a regular beef and chicken taco from each restaurant's menu, that we plan to review. The first restaurant on the Square Waffle list was El Rancho Tapatio. Overall taste was the major factor for the rating, but appearance, toppings, size, and price also helped the SW team make the decision.
El Rancho Tapatio was the most popular spot on a recent Facebook Poll
el Racho Tapatio, located at 144 Burt Road in Lexington, comes in with high expectations. The Square Wafflers had never tried a taco from el Rancho Tapatio, but was excited to give them a try. Who doesn't like a taco? New tacos can be exciting, but if they aren't what you expect, it could ruin your day. All the Wafflers agreed it would be a good day, after picking up the el Rancho Tapatio and opening the bag.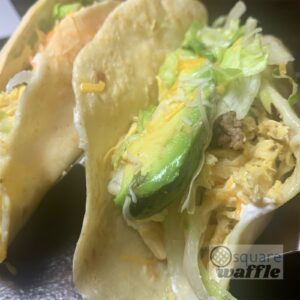 Tell me about the Taco, from el Rancho Tapatio!
As you can see from the photos the El Rancho tacos came loaded with lettuce, cheese, sour cream, avocado, and tomatoes. These tacos were the most expensive taco of the four restaurants we picked up on this day to review. But you can understand why with the amount of meat and toppings applied.
The chicken had intense flavors and the chicken was finely shredded. The ground beef tacos also had robust flavors and made each bite delightful. The beef on the El Rancho tacos was not overly ground, which most of the Square Waffle reviewers enjoyed. I think you can pick up the texture from the pictures of the beef tacos.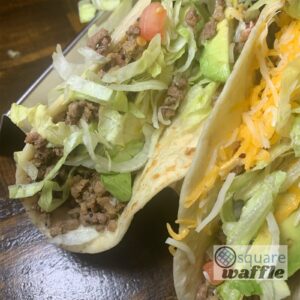 Overall the El Rancho Tapatio tacos did not disappoint. Great flavors and a huge portion were the difference in the rating. Take a look at the rating of the beef and chicken tacos below. If you have ever tried one of these tacos, please leave a user rating, so we can see what everyone else thinks.
Square Waffle Final Word
El Rancho Tapatio did not disappoint, high polling numbers they received. Both Chicken and beef have above average flavors and authentic Mexican taste. The chicken tacos at El Rancho Tapatio were graded at a 3.95 and the beef tacos rank with a higher 4.15. El Rancho Tapatio tacos are SW approved and a definite would eat again.
Check out all the taco ratings here……..
Leave a review for el Rancho Beef Taco
Leave a review for el Rancho Chicken Taco