What is the best Cinnamon Roll in Lexington, Round 1?
|
Where is the best Cinnamon Roll in Lexington?
Previously we tried to determine the best donut in Lexington, which wasn't easy because they are all sooo good. Some agreed and some did not. Since desserts make you feel a little better during COVID hell, we decided it was time for another tasting test. This time we wanted to find out where to go for the best Cinnamon roll in Lexington. We ended up with 7 contenders!
We tried to go a few more places but they sold out before we could do the pickup. That's ok, we will just have to have a second round of testing. It's a tough job but the Square Waffle team is willing to do this for the great people of central Kentucky.
I didn't realize before creating a list just how many places sold cinnamon rolls in and around Lexington. Also, we want to be fair for those that did not get judged because they must be pretty good if they sell out by 10:00 AM on a Saturday morning.
Who made it into Round 1?
Like we stated above we attempted to pick up rolls at a few places which had already sold out. Great Bagel was our first strike of the morning, the second strike was Bluegrass Baking Company, and the strikeout was recorded when we tried to drop by Donut Day's and get a cinnamon roll. A fourth shop that does not have cinnamon rolls daily is North Lime Coffee and Donuts. We will attempt to do a second round of the challenge with these four. If you know of another great cinnamon roll spots please share in the comments.
The 7 locations we hit for this tasting are: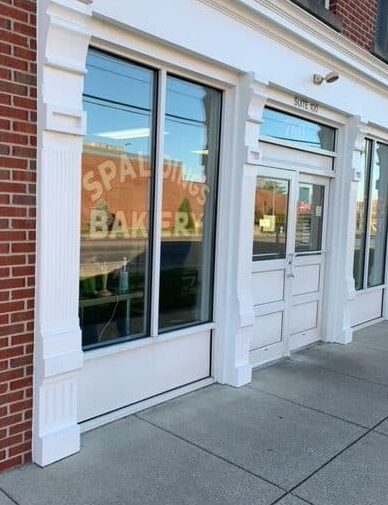 Spalding's Bakery has been around since 1929. They have more than donuts and are located at 760 Winchester Road. 
Magee's Bakery has been baking since 1956 and is located at 726 E Main St, Lexington, KY.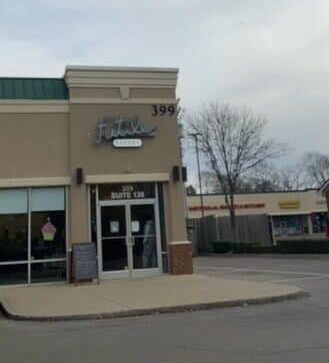 Futile is new to the Lexington Cinnamon Roll game, they are located at 399 Waller Ave., beside the Lexington Compounding Pharmacy.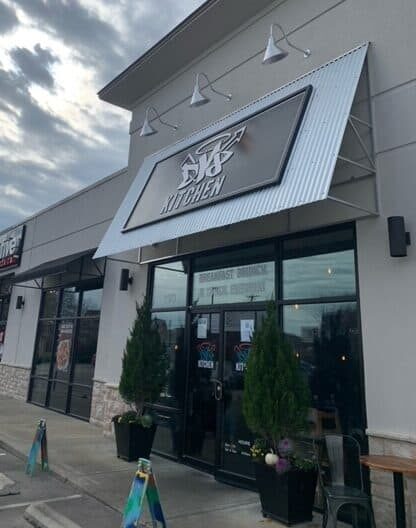 DV8 Kitchen is located at 867 S Broadway #140, they have a great mission and vision giving folks a second chance at employment.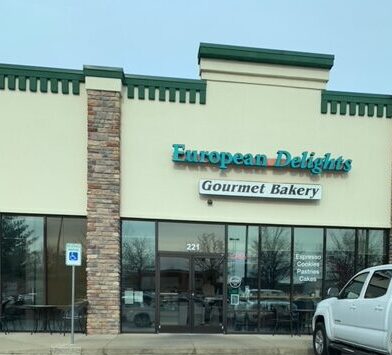 European Delights Gourmet Bakery, located in Nicholasville at 221 E Brannon Rd. They have many many goodies.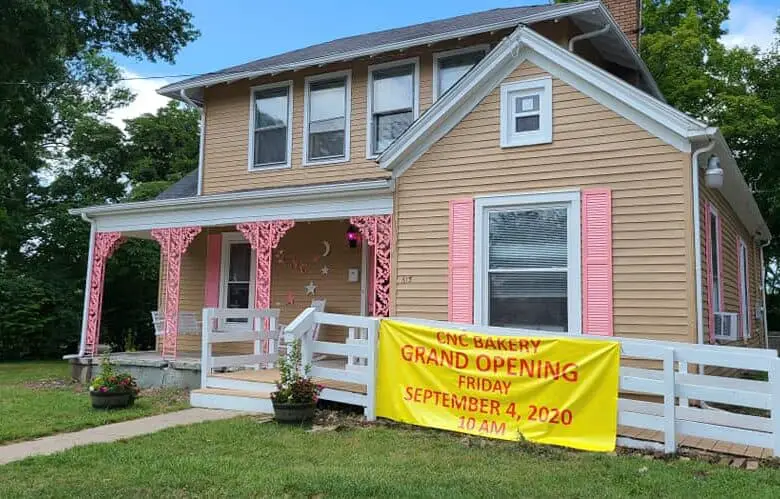 CNC Bakery of Nicholasville is at 615 N Main St, CNC just recently opened and has a wide selection of bakery goods.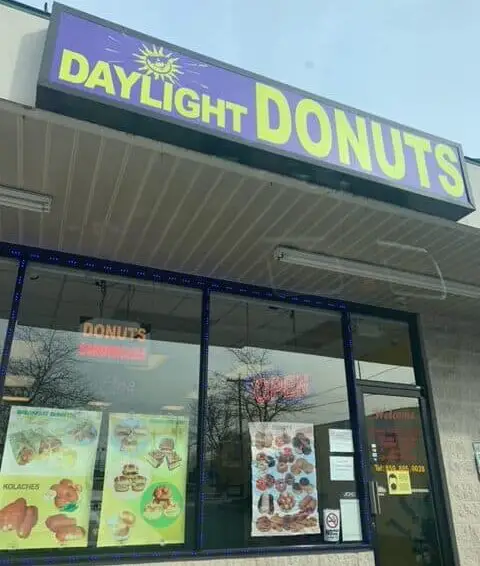 Daylight Donuts located at 1020 N Main St, in front of the Walmart!
Preparing the tasting!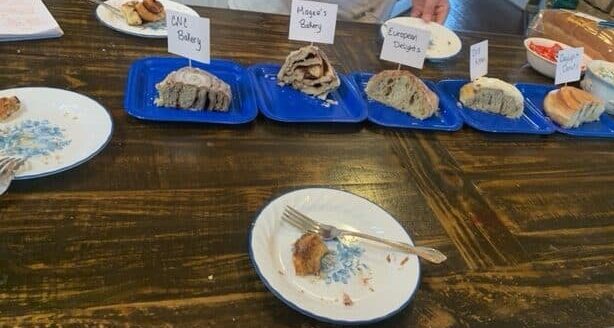 The Square Waffle Testing Team, SWTT, got one roll from each of the 7 shops. Lined them up and did a yummy taste test. Honestly, we didn't have a bad cinnamon roll in the whole set. Some were more yeasty and others cakier. Depending on how you like a cinnamon roll to taste you may not agree with the Square Waffle teams finding.
We are not trying to call out any shop as having a bad tasting cinnamon roll, but we would note we did not like it if that came up. The goal of this post and test is to bring light to all the great local small businesses around the Lexington area.
Opinions on Cinnamon Rolls in and around Lexington….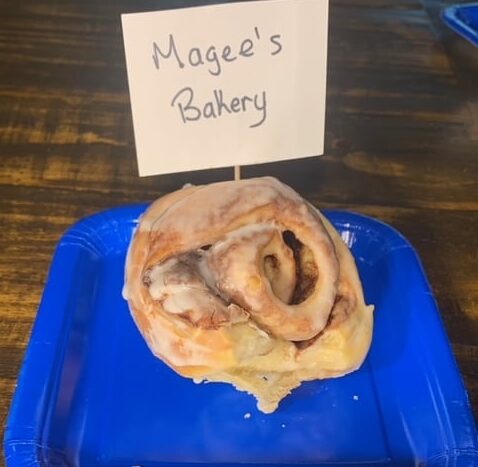 Magee's: Wow this is an amazing looking cinnamon roll. It looks like it was baked in a cupcake mold. Not sure if it was, but it gives it a great and unique look. Magees cinnamon roll looks homemade and smells wonderful. It has layers upon layers and cinnamon leaking everywhere.
The Square Waffle team noticed a very vanilla forward taste in the glaze. We loved that surprise! A few of us wished there was a bit more icing. Overall this was a super solid cinnamon roll. The roll had all the flavors you would expect and the homemade look and feel your love. The price was very nice also at only $2. Can't beat this deal!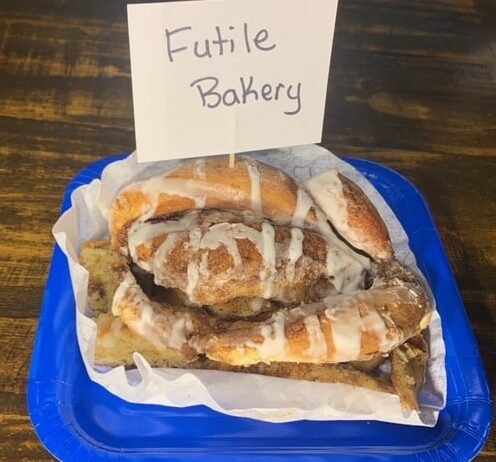 Futile: The Futile Bakery is new to the Lexington sweet treat scene. Futile has blown up on the socials in recent weeks so we looked forward to trying the awesome roll. They had sold out some days very early so we made it one of the first stops on the trip.
I had heard the icing was a little on the light side and had even noticed low icing levels on the Instagram pictures. However, the roll we sampled seems to have more icing than previously noticed. Maybe the pictures from the past and were just wrong or maybe Futile changed it up, either way, we loved the rolls. The texture of the rolls was awesome soft and flaky, exactly what one would think of as a perfect homemade cinnamon roll. The roll was not overly sweet and had a wonderful aroma. At $3 it is not as cheap as some of the rolls, but worth every penny.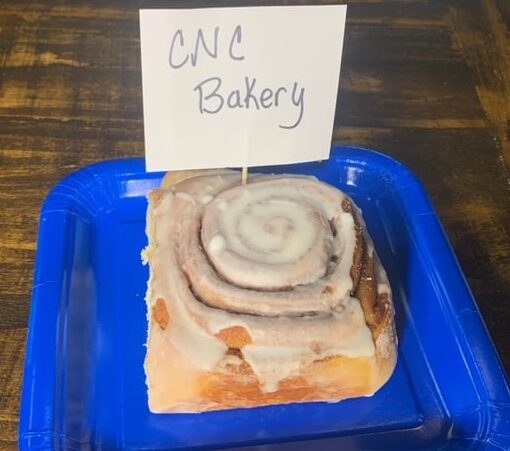 CNC Bakery: Nicholasville has a new bakery right on main street. CNC opened earlier this fall offering all the bakery items you would expect. One of those items is a big fat cinnamon roll.
The first bite of this roll you could taste the cinnamon, and lots of it! The amount of cinnamon was heavy but the entire testing team thought it went well with the denseness of the dough. The icing had great coverage so you got some icing in each bite. The thickness and denseness of the roll did cause a few bites to be a touch dry, but nothing to make you turn away. And at $1.50 you cant really pass up this new option.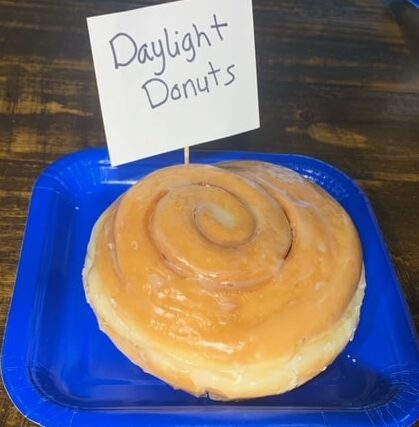 Daylight Donuts: Daylight is a donut shop in front of the Nicholasville Walmarts! They have all the doughnuts you would expect including a cinnamon roll.
The first bite revealed to us there is not much cinnamon in this roll :(. This cinnamon roll resembles a honey bun in shape and texture. And honestly, with the lack of cinnamon, it's really just a big honey bun/donut with a touch of cinnamon. Great taste but not really a cinnamon roll. This roll came in at $1.58, so there you go!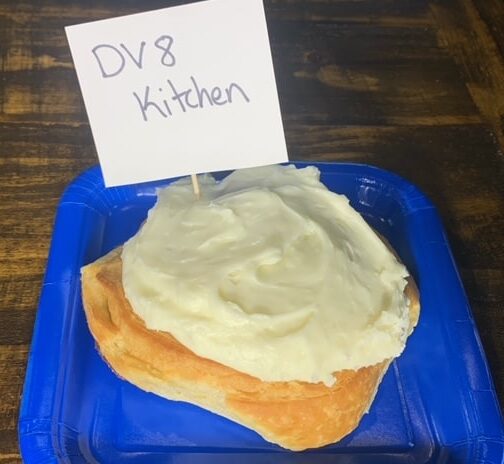 DV8 Kitchen: It had been some time since stopping in and getting a treat from the DV8 Kitchen, and I'm glad we made the return.
Wow, that cream cheese icing is thick. And not just thick, it's freaking awesome. No lack of icing on this cinnamon roll! I do wish it had more cinnamon, it's a great spice and the more the merrier. The dough is super soft and has a crossiant type ot texture. This was the most expensive roll out there at $4.25 but it's huge and yummy therefore it's worth it.
European Bakery: Have you tried European Delights in Brannon Crossing? If you answered no then you have missed out. They have many awesome and beautiful treats to make your eyes and belly happy. Take a look at our pumpkin roll review here.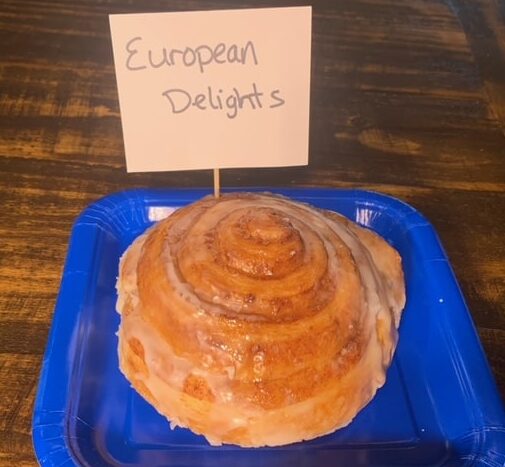 This was one of the largest rolls in the selection. The appearance of the cinnamon roll is what you expect from European Delights visually pleasing and perfectly executed. We wish it had a little more icing, we really like icing, what is wrong with that? The dough was very flakey and had a great homemade taste. European Delights has never treated my tastebuds wrong. They continue the streak with this cinnamon roll. This roll was priced at $3.50.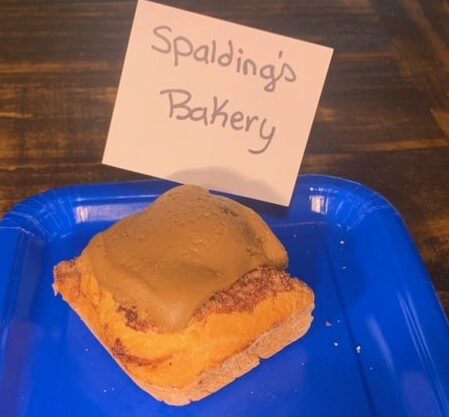 Spalding's Bakery: Spalding is more than just a donut place. This is the first nondonut item I have ever got from Spalding's, and it shows they can do more than donuts.
Spalding's does it a little different with the caramel topping for the icing. The Square Waffle Testing Team was not expecting caramel, but no complaints were made after tasting! Spalding's has an excellent roll it was very sweet. The dough texture was a great compliment to the icing making it very easy to eat. The $1 price is really hard to pass up as well.
The Results
Man, this was a really hard one to judge. We didn't have a bad cinnamon roll in the whole bunch. However, Futile Bakery was head and shoulders above the rest. It's the perfect homemade mouth feel, look, and taste! If you have not tried this place yet you need to get over there quick.
CNC Bakery was our second favorite, so another new place is making strides on the sweet treat beat. The rest of cinnamon rolls are all different so depending on what type of roll you are looking for you may make a run to a different shop each weekend. Please go try a few of these spots, because they need our support! If you cant decided where to go, maybe just go to a new place each day until you go through them all!

This will be the first round of cinnamon roll reviews. We are already working on a list for the next round. If you know a place we missed send us a comment. Round 2 coming soon.
Check out other reviews from Square Waffle.
Check out the best donut in Lexington review.
Reader feedback is super important. Please tell us what you think, leave a comment.