Agaves Grill – New Taco Review
|
Agaves Grill is located in Nicholasville. This Mexicain Grill is a newer Nicholasville resaturant, taking over the location a long standing Nicholasville Mexicain dinning spot. They are located on the north end of Nicholasville close to Autozone.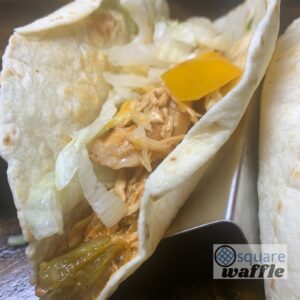 Agaves Grill in Nicholasville is new to the Lexington area taco game.
In a poll which took place on Facebook Agaves Grill did not rank in the top ten, but it may be just because they are new. The Square Waffle team picked up a few chicken and beef tacos off there menu. The team wanted to try a straight off the menu taco so we could taste view and rate.
How does an Agaves Grill Taco look and taste?
The Square Waffle team had now idea what to expect from this new Nicholasville dinning outlet. When it comes to price the Agaves' tacos were much cheaper than some of the others the team has reviewed. You can see from the photos the Agaves tacos do not have heaping toppings as some others in our reviews.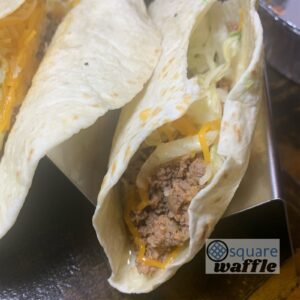 The tasting team was pleasantly surprised by the tasty tacos however, the size of the tacos don't matter. The beef tacos were much better than the chicken tacos, in our opinion. The Agaves beef ranked higher than most other beef tacos we have tired. The only negative was both of the Agaves tacos were a little watery and feel apart during consumption.
Square Waffle final word
Agaves Grill is a great new option for tacos in Nicholasville. We enjoyed the beef tacos much more than the chicken tacos. While the tacos were a little watery it did not take away from the overall taste. Agaves tacos are a will eat again!
Check out all the taco ratings here……..
Leave your Agaves Beef Taco Rating
Leave your Agaves Chicken Taco Rating