North Lime Donuts had featured apple daily specials all week
North Lime Coffee and Donuts at the Clays Mill location decided to have a week featuring apple based donuts. Each day had a different donut some of the offerings included: Apple Cinnamon, apple butter filled, and peanut butter filled. I was not able to make it over to North Lime Donuts until the day which featured the Nutella Apple Filled donut. I think all Nutella donuts have the potential to be amazing. Because of this high potential I made sure to hit up North Lime Donuts before they sold out.
North Lime Coffee and Donuts which is better coffee or donuts?
Even though donuts come second in the name it doesn't mean the second billing reflects how much attention and love the donuts get from the crew. I love coffee so I appreciate the dedication to coffee and giving coffee the top billing. I guess some people even call the shop North Lime Donuts and forget about the Coffee. Do this is ok, it does not hurt my coffee loving feelings at all. It is one of the best places to get coffee in Lexington Ky, it is also one of the best places to get donuts as well. You can be great at both.
Nutella Donuts look and smell better than other donuts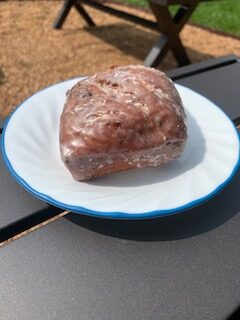 At first sight these Nutella donuts look rather normal. I didn't notice any apple juicy goodness leaking out. Also didn't see any Nutella leaking out of this square morsel. I just noticed the crispy brown dough, and a thin layer of glaze. I really like the way North Lime Donuts' filled donuts look, square not round and puffy. The aroma from the Nutella donut was really highlighted by the apple injected throughout the dough. I did not notice any Nutella aroma wafting out of the donut. The Nutella Donut did however have the classic North Lime Donuts fragrance, of high quality frying. The smell along with the visual of the donut in a perfect hand held size is what gets your mouth watering, and makes you check for napkins to catch any falling icing or filling which could avid the eager grasp of your mouth.
Filled North Lime Coffee and Donuts are square…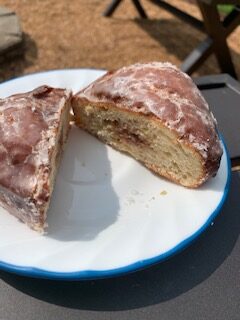 Like most of the North Lime Donuts which are filled this fried dough of sunshine was square and thick. It is really a great size for a treat in the form of fried dough. With all the good talk about how the Nutella donuts are the perfect size, unfortunately it does loose points on the overall taste, The amount of Nutella in this donut was very lacking. It was such a small amount, of Nutella that I focused on the the part which had Nutella and only ate those parts.
The apple flavor was noticeable, but was not enough. It's a fall tradition to eat pumpkin and apple flavored products. And when you go to these type of items you want those flavors to pop. For these filled Nutella donuts the taste was ok, but not great. I would not get it again, in fact I only ate half of mine. The parts without filling made it a thick mildly flavored apple donut with light glaze. I just didn't want to waste my calories on the donut.
Let's wrap up this review of filled Nutella donuts.
I can't help but try apple flavored treats once the weather starts to change. It goes with football, raking leaves, and pots of chill. North Lime Coffee and Donuts always has traditional and non traditional seasonal items throughout the year. I think this could be a huge winner in the donut race if a few things were changed. Add more Nutella, if only 50% of the bites have Nutella then you don't have enough Nutella, in a donuts that are suppose to be filled Nutella donuts. One more thing I would like to see is a little more bang for my apple buck. You may still like this donut. Don't take my word for it. Please let me know what you thought.
[rwp_box_recap id="0″]
Check out other reviews from Square Waffle.
We have reviewed other donuts. Take a look at those right here.
Check out the homepage and see what else you have missed.
Make sure you leave a rating below
Reader feedback is super important. Please tell us what you think.
Check us out on FACEBOOK, with a like, or TWITTER with a follow.
Here is what other readers thought.
[rwp_box_form id="0″]