Cream Filled Donuts – Espresso Filled Chocolate Chip Yeast
North Lime Donuts make me happy (most of the time)
When I saw on a Sunday afternoon North Lime Coffee and Donuts would be having a week full of flavored yeast I gained 3 pounds before finishing the North Lime Coffee and Donuts.  The "regular" yeast is not regular its' stupendous (I didn't even know how to spell that word).  When you take stupendous dough and add things like chocolate chips it then becomes super-duper stupendous.  Also a cream filled donut can become incredibly exciting when the cream is great.
If you don't know about North Lime donuts, then shame on you, I can tell you they have been creating tasty dough for many years in Lexington, and few years less in Louisville.  COVID times have made it impossible to hang out and enjoy some fried dough goodness at one of their shops, but they have done a great job with online ordering and curbside pickup.
Special Yeast  Dough
While the staple donuts you can get every day are awesome, the specials are what I daydream for and diets fear.  I could always enjoy a fine regular glaze or chocolate iced any day of the week.  And sometimes I have to "settle" when I arrive too late and the daily special is already sold out.  I think about donuts as a handheld piece of sunshine in an individual sized portion.  The expresso cream filled donut was large enough piece of sunshine you could end up with a touch of sunburn by the time you finish it. #dadjoke
The donut in question.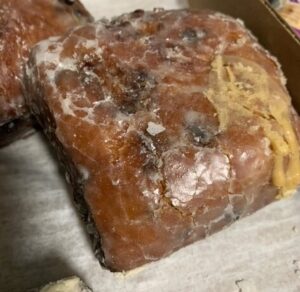 Take a look at that cream filled donut.  It may be square, but it's anything but square once you take a bite. #dadjoke A Cream Filled donut is not typically my go to when I'm picking, but typical is not what this donut is.  The espresso filled is finished with the wonderful North Lime Glaze.  You can see the chocolate chips in the yeast showing through the top crispy layer and yummy glaze.  The espresso filling is also leaking out just giving you a hint of what you are about to experience.
This guy got extra points on my scorecard for visual appeal.  Just look at that picture, wow!
What's on the inside this square cream filled donut?
After taking just one bite I knew something I had something fun was happening.  The donut is a little thicker than how I would construct my perfect donut.  However it still is moist (sorry if you don't like that word) enough to not really be an issue when consuming.  The chocolate chips make up for the extra dough by adding in some unexpected flavor.  Yeast donuts are normally my favorite, the chips really helped and to the taste, plus a few points.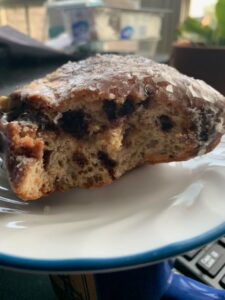 When you think of a cream filled donut, do you imagine and ending with a messy shirt from the excess cream squirting everywhere? Its ok you don't have to answer that…. Cream filled donuts should have plenty of cream, and I don't think this one had enough. The espresso filling was awesome however; it reminds me of coffee flavored ice cream which does make up for the lack of filling just a little bit.
North Lime Donuts smell so good.
The aroma from outside the shops is enough to get your mouth to salivate. The Espresso cream filled donut however was not extra special in the smell category. So it lost a few ticks on the scoreboard.
Overall, a very solid Cream filled donut, with flavored yeast. The espresso cream is perfect, chocolate chips make the dough even better. I just wish the dough wasn't as thick and the espresso cream was a little more. Maybe if the donut was smaller you wouldn't need extra cream? I say try this one if you like espresso flavored treats.
[rwp_box_recap id="0″]
Check out other reviews from Square Waffle.
We have reviewed other donuts. Take a look at those right here.
Check out the homepage and see what else you have missed.
Make sure you leave a rating below
Reader feedback is super important. Please tell us what you think.
Check us out on FACEBOOK, with a like, or TWITTER with a follow.
Here is what other readers thought.
[rwp_box_form id="0″]