Pumpkin Cream Cheese Filled Donut
As fall descends upon us so does everything pumpkin spice.  Donuts are no exception!  North Lime Donuts long known for bringing unique flavors to the donut world offers a Pumpkin Cream Cheese Filled donut to the mix for fall.  I am a professed lover of all pumpkin spice baked goodies.  So fall is my absolute favorite food time of year.  Needless to say I was really excited to try North Lime Donuts' version of pumpkin spice goodness.
North Lime Donuts
North Lime Donuts currently has three locations.  Two in Lexington and one in Louisville.  If you follow their different stores on Instagram you will note that the each have a standard set of donuts, but also have daily and weekly donuts that are only sold at one location on any particular day.  In an effort to bring you reviews on as many of the flavors as we can, we here at Square Waffle will gladly do our best to sample all of them.  Which brings us to our current review.
The pumpkin cream cheese filled donut that I sampled this day came from North Lime Donuts' Clays Mill Road location in Lexington. This is a yeast donut.  I will take a yeast donut over a cake donut every day of the week.  You will first notice that the donut is square as are most of the donuts created by North Lime Donuts.  The outside was a very nice golden brown.  The glaze had set and had those wonderful flaky cracks covering the outside.  So this is a good looking donut so far.
Next let's move on to aroma.  It smells of deep fried donut goodness, with only a hint of pumpkin spice.  Depending on how you much you like pumpkin spice, you may be a little disappointed that it smells more like a regular donut instead of all the lovely spices so associated with pumpkin pie, pumpkin bread, and pumpkin roll.  I may have failed to mention that I love all baked pumpkin goodies.  Based on the light aroma, I was a little disappointed that it didn't have that punch of spice.
Now let's get to the good stuff, the taste.  The first bite had a good texture to the dough.  It was totally what I come to expect from North Lime Donuts. Nice texture, hint of yeast, cooked perfectly.  After the initial bite, I noticed again how mild the pumpkin spice flavor was.  If you prefer a lighter taste of the spices, then you may very well enjoy this donut.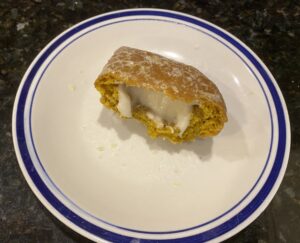 The filling itself was extremely good.  Good creamy texture with enough sweetness to let you know there is more than just cream cheese here.  It is very much like good cream cheese frosting on a pumpkin cake or the filling in pumpkin roll.  The filling is definitely a winner!  The inside cavity isn't completely filled with the cream cheese mix, but filling it completely would be way too much.  The amount inside is just about right.
When I got a bite of both the dough and the filling, I was disappointed.  I found that the filling overpowers the mild flavor of the dough.  Some may like this combination and go for the sweet shot of the filling.  I personally would like spice flavor to be more intense to offset the sweetness of the filling.
I have come to expect a lot from North Lime Donuts donut's.  Given their other flavors, I had high hopes for this donut.  The flavor was too muted and was easily overpowered by the filling.  I would categorize this one as "I won't turn it down if offered, but won't request it either."  With that being said it is a decent entry, but lined up against their other really strong contenders at North Lime Donuts this one just didn't measure up.
See other Donut reviews
Check out our thoughts on other donuts here.
[rwp_box id="0″]