A Lexington Donut without rival?(North Lime Dontus)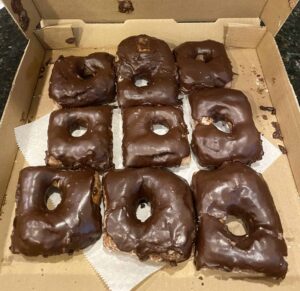 With all the craziness in the world right now it's always good to find things that make you happy. Donuts (especially a chocolate iced donut) from North Lime Donuts are one of those endorphin increasing experiences that can provide a nice little pick-me-up. There's nothing quite like a nice dozen donuts on a lazy Saturday morning that makes for a great start to the weekend. Which brings us to our review!

North Lime Donuts has a wide assortment of donuts from standard fare to unusual flavor combinations. Their chocolate iced donut is one of their standard flavors that it available every day (until they run out of them, which happens). It's a go-to donut that never disappoints. I would venture to say every donut shop has a chocolate iced donut but if you haven't had North Lime Donuts' you are seriously missing out.
Love at first sight? A Chocolate iced donut love story
First, let's talk about the visual appeal. At first sight, you may say "A square donut?" Yep, that's right! Who said donuts have to be round? North Lime Donuts sure didn't! These are big donuts and I know quite a few people that will split them in half. Even if you do that… you'll eat the other half before you know it. This chocolate iced donut may look messy (and it is) but the quality of the donut is so high that you don't really worry about how pretty a donut really looks.
When you first open the box you are greeted with the wonderful smell of chocolate and deep fried goodness. There is no doubt that these are chocolate iced donuts. The icing has a rich chocolate aroma that you can't deny. Your taste buds will thank you later!
But how does these North Lime Donuts taste?
The donut itself is their standard glazed yeast donut that is then hand-dipped into the chocolate icing. This icing isn't your run of the mill chocolate drizzle. This is some seriously fudgey goodness on these donuts. If you're not a fan of massively rich chocolate then this is not the donut for you. If you love good chocolate then this donut is totally for you! I'm not completely sure how they make the icing but it is consistently good.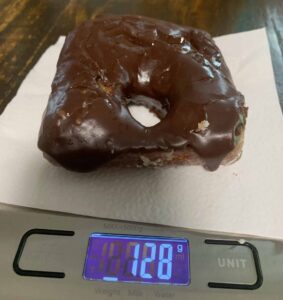 Now that your mouth is watering a little bit lets talk about the full taste experience. These North Lime Donuts are big! The one below clocked in at 128 grams which is 4 ounces. That is a quarter-pounder donut! When you bite into it, you will get chocolate on the sides of your mouth. Kids will pretty much have it all over their faces and some adults will too. All the better on a lazy Saturday morning.

These donuts have a really nice texture. Being yeast donut you will have various sized air pockets in the donut which gives it that unusual bumpy texture. With all the sugar covering the donut you would think it overly sweet, but it the chocolate richness cuts down on the sugar rush that you can get with other donuts. It's truly a decadent donut in every sense. A good cup of coffee (or cup of tea for us non-coffee drinkers) pairs so well with this donut. A cold glass of milk will work quite well for the non-caffeinated crowd as well.
Overall this is an excellent chocolate iced donut. One that I have had many times and will continue to order when we make the trip to North Lime Donuts. They are always consistently good. It's fun to open up the box to see how different the shapes can be each time. The aroma and taste are perfectly matched in a big portion donut. It's big and so is the taste. All of North Lime's locations carry this one. If you live in Lexington, stop by and try them out. If you live in Louisville, seek out this grand donut created by your neighbors to the east.
[rwp_box_recap id="0″]
Check out other reviews from Square Waffle.
We have reviewed other donuts. Take a look at those right here.
Check out the homepage and see what else you have missed.
Make sure you leave a rating below
Reader feedback is super important. Please tell us what you think.
Check us out on FACEBOOK, with a like, or TWITTER with a follow.
Here is what other readers thought.
[rwp_box_form id="0″]
[rwp_box_reviews id="0″]