This Pineapple Hard Cider satisfies your cider craving.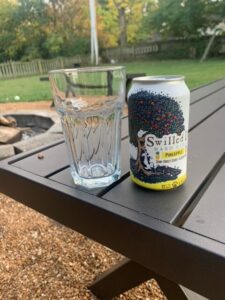 Swilled Dog Hard Cider is made and bottled in Upper Tract, West Virginia, I've never been there but I hear it great in the Spring. In past I have tried several of the other Swilled Dog Hard Cider offerings, but never the pineapple. Never had I tried any pineapple hard cider, but here we are about to review a first. Hopefully more of the Swilled Dog hard ciders will be reviewed on Square Waffle in the coming months so we can all compare and decide which hard cider is best.
I had never had a pineapple hard cider before this Swilled Dog jumped into my cart. Apples and Pineapples seem to be natural in their cider brewing marriage. This gluten free hard cider should be great for any of the gluten sensitive Square Waffle readers out there. I will try some more pineapple hard ciders from other bottlers when I find them.
While I had my doubts about this Swilled Dog cider, I was willing to give it a try. The art work on the Swilled Dog cans is some of the best on the market. The can is just a nice touch to the lead up to consuming.
But does it smell like Pineapple or just Apple?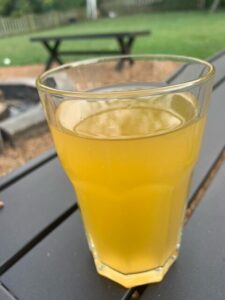 The answer to the above question is YES, at least somewhat. This little pineapple hard cider did have a pineapple aroma, and that made me happy. The aroma was not overwhelming or disagreeing, in fact it could have been some stronger and I still would have liked it. Not really sure if it's easy to put in extra aroma into the brew or maybe you are just stuck with what you got when working with pineapples and apples. I would say it's a little above average and the score reflects that.
The color of the cider once poured into the glass was eye pleasing for sure. The cider almost appeared to have some pulp floating around in may glass, it almost had a bit of thickness. Upon further inspection NO Pulp was present. I was happy it didn't have a typical cider look. Once poured it really did look like a pineapple hard cider! And that is a very good thing, extra points for appearance. It's a win/win for the aroma and appearance criteria. Before I took a sip,I was getting excited.
But how does it taste??
Every hard cider review needs to talk about how the cider actually taste. For this Swilled Dog it was excellent. It will be a go to for me next spring and summer, even though I tasted it in early fall I still enjoyed it. The flavors popped and gave a fun beach vibe. Since COVID has ruined my beach dreams sipping on a pineapple hard cider will have to be what does it for me in 2020. Swilled Dog has made it so it's very easy to drink. Not too sweet but not to dry, from my perspective I would say it's a little closer to sweet than dry, but you should try it and find out for yourself.
Like I said before I had not had a pineapple hard cider before but I'm glad I tried the Swilled Dog. The hard cider is a very creative mix of apples and pineapples to bring you a tasting tropical feel good happiness in a can. So, they get extra points from me on being creative.
Get ye some Pineapple Hard Cider, from Swilled Dog.
After checking out the website it looks like Swilled Dog only offers this in Spring-Summer. If you missed it this year you will have to wait. It comes in with a 6.9% ABV count, and is a gluten free hard cider. I tried it the 12 ounce can, not sure if you can find it on tap, I'm sure it would be even better if you can. If you don't know much about the Swilled Dog, I'll drop the details below. Make sure you rank this cider along with us once you try it.
[rwp_box_recap id="0″]
We have reviewed other Ciders. Take a look at those right here.
Check out the homepage and see what else you have missed.
Make sure you leave a rating below
Reader feedback is super important. Please tell us what you think.
Check us out on FACEBOOK, with a like, or TWITTER with a follow.
Here is what other readers thought.
[rwp_box_form id="0″]
[rwp_box_reviews id="0″]