Sorghum Infused Hard Cider
This is the first New Day Craft Cider reviewed by Square Waffle. New Day Craft Mead and Hard Cider is located in Indianapolis, Indiana. Johnny Chapman in case you did not know is the real name of Johnny Appleseed. Naming a hard cider after Mr Appleseed, makes sense to me. Johnny would have to be on the Mount Rushmore of American Cider making legends, even if he never made or drank one.
New Day Craft Hard Cider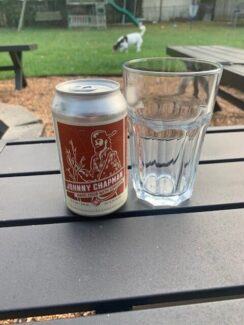 Take a gander at how great this can looks. I have to admit it was the first reason I picked up this can to check out what was inside. The art work really pops and works well with the bare aluminum can at the top. You really can't go wrong with the coonskin hat!
Thinking about Johnny Appleseed got me thinking. Would we even be drinking hard cider today if Johnny Chapman didn't do his good deeds of planting apple trees back in the day? My guess is we would still have apples but maybe not! Maybe without Johnny the ciders of today would need to be imported from outside of the states.
Since I don't know the answer I'll just dedicated this glass or hard cider to you Mr Chapman. Thank you sir for what you did, I salute you!
Sorghum adds aroma and color!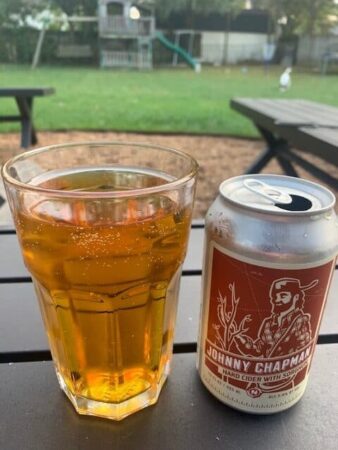 At first pour you can see the color added to the glass by the sorghum, the cider is just a little darker than the average hard cider. The color indicates a rich cider from New Day Craft.
The aroma also has a sorghum wave when you pop the top. It gives off a smokey aroma, but maybe my mind was just playing with me, that happens a lot more than I will admit.
The scores for aroma and appearance reflect the nose and eye 'a peel' #dadjoke. Sorry really bad joke but I had to go there. Let us know if the comments what you think about the fragrance!
Do I taste a smokey caramel apple?
Johnny Chapman is a solid cider! The flavor is unique and unlike other hard ciders I have sampled in the past. I am not aware of other hard ciders brewers which are infused with sorghum. If there are others out there I would like to try them at some point to see how they compare to this one. The best way I can describe the flavor is the cider has a background taste of caramel apple . But it there is no caramel added into the mix, it's just how the sorghum infusion changes the flavor.
The cider is not overly sweet but not dry either, so it did live up to the label of being 'moderately sweet'. The Johnny Chapman was very easy to drink. No off putting aftertaste that would make you change your mind on the taste after you take a few sips. Johnny Chapman really just offers a smooth refreshing taste. The uniqueness of infusing with sorghum did crank the score up a bit for my review.
I would recommend New Day Cider's Johnny Chapman, and I plan on buying more next time I find one.
New Day Cider – A new Cidery to me
Here is the low down on New Day Craft, if you are looking to buy one for yourself. I plan on trying some of their other offerings very soon.
[rwp_box_recap id="0″]
Check out other reviews from Square Waffle.
We have reviewed other donuts. Take a look at those right here.
Check out the homepage and see what else you have missed.
Make sure you leave a rating below
Reader feedback is super important. Please tell us what you think.
Check us out on FACEBOOK, with a like, or TWITTER with a follow.
Here is what other readers thought.
[rwp_box_form id="0″]
[rwp_box_reviews id="0″]