The Square Waffle team will save you time with 3 Hard Cider Reviews in one post!
In this post, we will have one cider company you have probably heard of and two others which may be new. If you are a cider drinker I'm sure Blake's Hard Cider is one cider maker you have heard of and even drank. The Blake's we review today is Blakes Hard Cider Caramel Apple. The two cider brewers you may not know are Original Sin Cider and 1911 Cider House.
I have tried some other Original Sin Cider in the past, but this was the first time I've tried a 1911 Cider, or 1911 Established. I'm not really sure which is the correct name. If you go looking for it, it's the one with 1911 printed very large on the can. 1911 Established also has the larger 16 oz cans. The larger cans make it great for sharing or enjoying just a little extra after the pour.
These are 3 totally different types of cider. This is a reason the Square Waffle Team enjoys cider so very much. The flavors and varieties available can be overwhelming at times. If you can't handle the choices just come back and check with us. We will continue to do hard cider reviews and posting about ciders, this way your decision may be a touch easier.
3 unique taste and can art work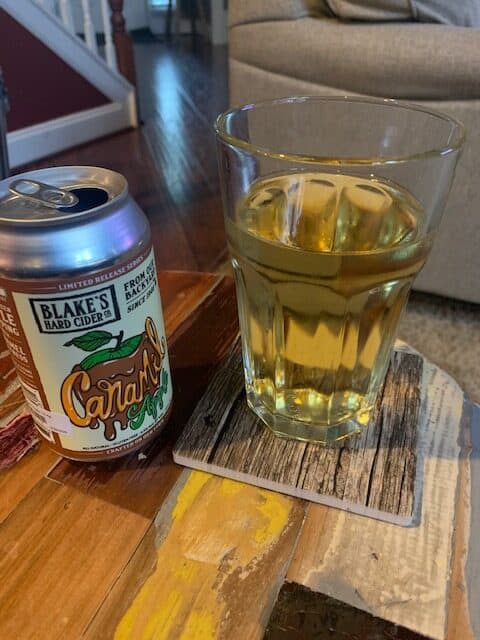 Caramel apple seems to be a natural flavor for a hard cider. I had never tried the caramel apple cider before I tried Blake's. I wasn't sure what to expect, but overall I was very satisfied with how well the flavor turned out. The artwork on this can was really artistic. For some reason, I really like when the cans are wrapped with the artwork exposing some of the bare aluminum Blakes always seems to have a nice can and this one did not disappoint.
The black widow original sin cider is another first for the Square Waffle site. Blackberries at first did not seem like it would match well with apples. This blend however uses freshly pressed New York apples.
Also just take a look at the original sin can the black widow is simple but intelligent and is a good representation of what the cider will actually look like when poured into the mug.
Let's review the aroma and appearance.
All three of these hard ciders have an aroma that matches the name of the ingredients or on the cans. Blakes caramel apple had a whiff of caramel on the first pour. The aroma was not overly strong. The apple aroma is definitely stronger, but there were hints of caramel when you take a big inspiration. The aroma is not overly exciting but it also did not receive any negative points. The color of the cider is the same as an average cider. I was expecting it to be somewhat darker since it is a caramel apple.
The black widow cider from original sin has the best-looking color of the three hard ciders. The blackberries definitely give this cider an interesting color, it also has a sweet fruity smell of the BlackBerry again not overly strong just like the Blakes. Black widow cider had the best aroma of the three in this review.
Finally, for the 1911 established cider, the donut aroma was present. While it did not smell like I was in a donut shop it did have that sweetness, in the air, of a glazed donut. The color was a little bit darker than I was expecting. And I liked the darker color! Even though it had no effect on the flavor it made it more intriguing.
But how do they taste Lenny?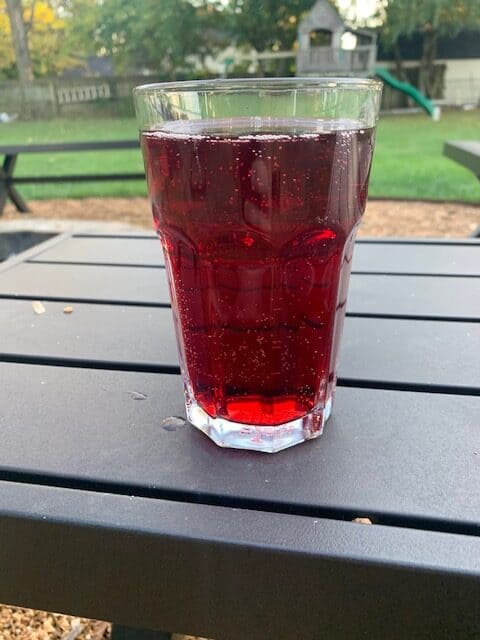 Hard Cider Reviews are easy! Ranking these three for taste I would go with Blake's, 1911 Established, and then Original Sin Cider. Blake's Carmel Apple hit the spot, it was not overly sweet and had the tartness you would expect when you look at the green apple and caramel on the can. Also, give this a high mark for creativity because the flavor achieved what it was attempting.
1911 Established was smooth and somewhere in-between sweet and dry. Easy to drink and you get 4 more ounces compared to the normal cider can! I gave this cider extra creative points on this as well. Not sure I would have thought cider and donuts go great together, but I do like apple fritters, so it makes sense.
Original Sin Cider's black widow was really good for a fruity cider. Berries ciders are not exactly my favorite to drink. I made it almost to the end of the can before I started thinking about the blackberry taste, and how it is a little off or has the medicine tasting present.
Honestly, this is more than likely a preconceived impression I had in my own mind. If you enjoy berry ciders I think you would love this one. I tried it despite, the fruit, not being my thing, the can sold me this cider.
Final Thoughts, on 3 Hard Cider Reviews
Hard Cider Reviews can get tricky, and these are three quality ciders, all different and unique. If you are looking for new cider to put in your rotation I would recommend all of these. While Blake's Hard Cider was my favorite, I don't think it will be the same for everyone. Since all these vary widely it will be up to the reviewer. Which means we need feedback from you, if you have tired one, two, or three of these ciders, please leave a review.
Check out other reviews from Square Waffle.
We have reviewed other ciders. Take a look at those right here.
Make sure you leave a rating below
Reader feedback is super important. Please tell us what you think.
Here is what other readers thought.
[rwp_box id="0″]
[rwp_box id="1″]
[rwp_box id="2″]