Did you know there is a great European Bakery in Lexington Ky?
Have you ever searched 'bakery Lexington Ky' and didn't fine what you were looking for? It could be because this European Bakery is actually in Nicholasville, 221 E Brannon Rd, Nicholasville, KY to be exact. European Delights sits in a strip mall in Brannon Crossing, just before you enter Lexington, so I can understand why some may classify this as a Lexington Bakery. It really does not matter where European Delights is located. What really matters is when are you going to the European bakery and peruse the glass cases full of goodness?
Pumpkin roll is a great fall treat!
Pumpkin rolls! Pumpkin Rolls! Leaves are changing colors, temperatures are dropping each day, and pumpkin flavors are making their way into all the foods you can dream up, even if some are nightmares. For the past few years I have looked forward to this moment because I know European Delights will be serving up this fall tradition.
I have not been to Europe, therefore I am not sure if pumpkin rolls are a staple in every European Bakery or if it is an American European Bakery tradition. Either way I'm just happy European Delights servers pumpkin rolls up each year. I am not a huge fan of every pumpkin flavored item, just because they are pumpkin flavored. Sometimes the pumpkin is to pumpkiny or may it's just orange and not really pumpkin flavored at all. But for some reason a good pumpkin roll always hits the spot.
European Delights has the presentation down to an art.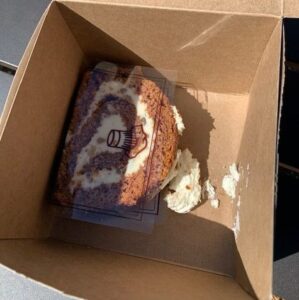 Look at how stunning this pumpkin rolls looks! Even though it got tossed around in the box on the way home it still has great appeal. This image makes it where I can not help but rank this pumpkin roll high for visual appeal. The cream cheese swirl and dollop of whip cream on the top of the pumpkin role is a nice touch. and you get it every time at European Delights.
A European Bakery has a nose appeal when you walk in the doors. The aroma even wafts outside. You can even catch a few scents when you pull into the European Delights Gourmet Bakery parking lot. I don't think it scientifically possible to ingest calories from smelling and looking at a pumpkin roll, but who really listens to science any more? Therefore I was already in the hole about 175 calories before I got home!
Taste comes strong at European Delights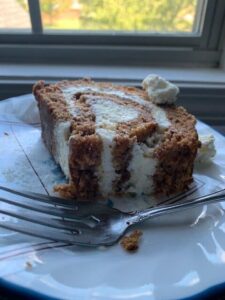 When I think about American vs European portions I would envision the American size being twice as big. And that is the case here for this American European bakery that you call European Delights. This pumpkin roll could have been enough food for lunch, even though I ate it before lunch and still had lunch. The pumpkin roll really is that big!
The last and most import piece of this review is of course the taste. If you have read this far you may be asking "Lenny how does this pumpkin roll from European Delights taste?". And I, being Lenny, would have to reply. "#OMG, it's the bomb." I am not joking this is the best pumpkin role I have every ate. The pumpkin role may have came from a "European Bakery" but it taste like something your grandma created. The ratio of cake to cream cheese is pretty much perfect. The texture of the cake it works so seamlessly with the creaminess of the filling.
When you have a large helping and unmatched taste the score keeps going up for this European Delights Gourmet Bakery fall staple. I hate winter because the weather is cold, but it also means the pumpkin role leaves the European Delights menu for serval months.
Pumpkin Roll Wrap Up
First word WOW! Everything about this European Delights' pastry is almost perfect and the overall review will prove it. Get to European Delights before time is up on this limited time item. Even though the Lexington bakery is actually in Nicholasville it is worth whatever your drive may end up being. If you have tried this Eruopean Delights Gourmet Bakery pumpkin roll, please review below and give us your score!
[rwp_box_recap id="0″]
Check out other reviews from Square Waffle.
We have reviewed many donuts. Take a look at those right here.
Check out the homepage and see what else you have missed.
Make sure you leave a rating below
Reader feedback is super important. Please tell us what you think.
Check us out on FACEBOOK, with a like, or TWITTER with a follow.
Here is what other readers thought.
[rwp_box_form id="0″]