Looking for great coffee in Lexington Ky? Then this coffee review of Good Folks is for you.
Good Folks Coffee Company
Good Folks Coffee Company is based in Louisville, Kentucky. According to their website Good Folks Coffee is an "Award-Winning" wholesale coffee roaster. Good Folks Coffee does not currently have a stand alone coffee shop. After drinking the Guatemala Waykan I can understand why Good Folks Coffee has won awards. This coffee is a single origin, comes from the Huehuetenango region of Guatemala, and has amazing flavor. For a light roast coffee, which I almost never choose, it really stands out.
North Lime Donuts
I first tried this Good Folks Coffee at North Lime Coffee and donuts in Lexington Ky. The Guatemala was being served as the house coffee of the day. North Lime Donuts serves many local roasts as they have a daily coffee, rotating in various roast and rosters over time. Anytime you are looking for coffee in Lexington Ky, or the surrounding area, you should stop in to one of the shops. I rarely get a bad cup from North Lime Donuts, so even though it was light roast I made my order anyway.
From the first sip I could tell I would need a bag, of the Guatemala, for when I got back home. Good Folks Coffee describes the notes as Red Apple, Milk Chocolate, and Hibiscus & Creamy. I for sure got the citrus and chocolate flavors along with the creaminess. In fact if you use cream as I do, I would recommend using less than you do for a normal cup. The Hibiscus note mentioned above did not show itself to me. But I have never eaten or drank a hibiscus so maybe it was there and my unrefined pallet couldn't pull it out. *Note I'm not a professional, just a dude that likes coffee.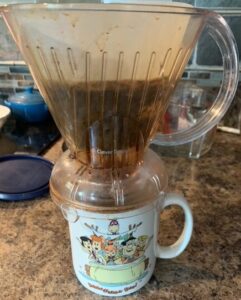 I prepared mine in a classic pour over.  I did 10 ounces of water and 22 grams of coffee. This seems to be a very nice mix, for all my coffees.  The Clever Coffee Dripper pour over pictured here is what I used.  When using the Clever Coffee Dripper you can let the coffee step for a few seconds or minutes before letting it drain into the cup.  I don't do a long step, around 30-45 seconds at most.  More than 45 seconds and I find the coffee will be overly strong and become bitter.  Once the brewing is over I finish with a touch of sugar and two splashes of cream. I found less cream works best for the Guatemala Waykan because it comes with a built in creaminess.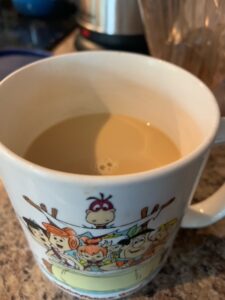 The finished product has a great color and slight aroma.  The scent is not over powering, yet it could be a little stronger, it doesn't fill up the room with fresh brewed coffee smell.  It is a very easy drinking cup.  I seem to finish mine quicker than my larger first cup of the day brew.  The taste, citrus and chocolate, like I mentioned before are complex and blend well together.  The biggest downside for this roast is the aftertaste.  While the taste is great, it does seem to stay with you for some time after you finish drinking.  It's not so bad that I want to brush your teeth afterward, but if you do I can understand.
To wrap it all up, I would without a doubt recommend this Good Folks Coffee roast. And will order it again if it's brewing at North Lime Donuts! The intense flavors along with the creamy body are perfect for an afternoon cup on the back porch in the fall. If you have tired it, leave a comment below along with a rating. Have you tried other Good Folk coffee and think we should try it, and then let us know that as well.
If you want try it yourself, here a quick link to buy from the Good Folk Coffee website.
[rwp_box_recap id="0″]
Check out other reviews from Square Waffle.
We have reviewed donuts! Take a look at those right here.
Check out the homepage and see what else you have missed.
Make sure you leave a rating below
Reader feedback is super important. Please tell us what you think.
Check us out on FACEBOOK, with a like, or TWITTER with a follow.
Here is what other readers thought.
[rwp_box_form id="0″]